AMERICAN LINEAR MANUFACTURERS
PRECISION CROSSED ROLLER LINEAR STAGES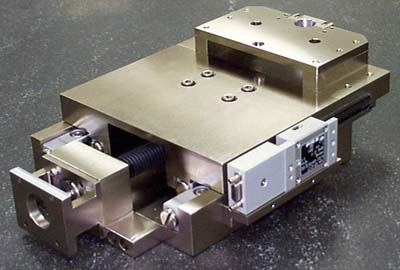 NEW series of motor ready linear positioning stages feature ALM MADE IN USA, Precision Crossed Roller Linear Bearings. ALM Crossed Roller stages are characterized by smooth, quiet, repeatable, frictionless motion while providing flatness and straightline accuracy of 2 micron / 25mm travel. Torsional stiffness and rigidity, zero sideplay in any attitude and minimal torque requirements make these stages the designers choice for high precision linear positioning applications. Long life and maintenance free operation make these stages ideal for cleanroom or difficult access locations. ALM stages are available in aluminum or cast iron (stainless steel optional), with ballscrews or leadscrews, and include english mounting holes (metric optional), single piece NEMA frame motor mounts, and aluminum flexible coupling as standard.
The pictured 150mm wide x 50mm height custom stage was designed and fabricated for a surface scan of a storage disk during manufacture. It is presently being supplied to an OEM in Northern California for integration. This processing equipment is then shipped to a Malaysian manufacturing site. This 50mm stroke stage features "in-line" stainless steel crossed roller linear bearings, electroless nickel plated 7075 aluminum alloy, teflon coated precision ground leadscrew, .1 micron resolution non-contact linear encoder, 10,000 rpm air bearing spindle clamps in line within ½ micron, 1" length NEMA 17 frame motor mount, custom stainless steel servo coupling, clean room compatible lifetime lubrication and stainless steel metric hardware throughout. The stage performance specifications are as follows:

Parallelism of travel*: NTE 1 micron * 2 planes
Straightline accuracy : NTE 1 micron
Positional accuracy : NTE 1/2 micron
Positional repeatability : NTE 1/2 micron
Pitch, Yaw, Roll error : NTE 5 arc seconds
Dynamic Noise Level : NTE 30 Db
ALM features the widest selection of accuracy grades, motor mounts, materials, waycovers, finishes, limit switches and feedback options available, many directly from stock. ALM stages can be supplied with custom mounting provisions, in multi-axis configurations, with laser calibration certification, vacuum preparation, or clean room certified. Can't find a suitable standard product? ALM welcomes application specific stage design and fabrication projects.
ALM features an expert applications engineering staff. ALL ALM products available on disk in 2D. Serving industry since 1970. Mastercard / VISA accepted. Visit our website at www.americanlinear.com
CALL ALM ... WE HAVE A SOLUTION
AMERICAN LINEAR MANUFACTURERS
629 Main Street
Westbury, NY 11590
800-892-3991 FAX: 516-333-1729
516-338-5741